The
toy organizer travel roll up
($15) by
Kidsstore
features seven pockets of various sizes that can hold crayons, paper, and small toys such as a deck of cards, Hot Wheels, or little play figures. The roll has a fold over flap and attached elastic closure (thick hair band) to hold everything inside once it's rolled up. It rolls up quite compactly and could easily fit in a purse or small bag. I've already used our toy roll ups at church and at a restaurant. These are perfect for anytime you need your child to stay put and play quietly for a period of time. The fun of simply taking out and putting back the objects into their pockets should not be underestimated. Here are 10 places where I believe a
toy roll up
would come in particularly handy.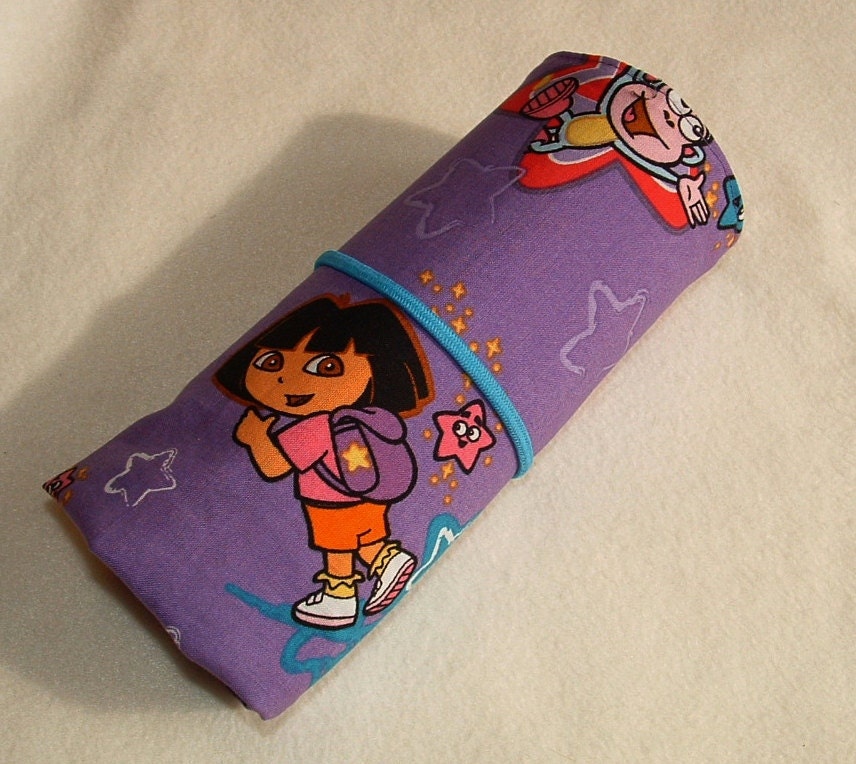 Toy roll all rolled up and ready to take on an adventure.
Church
Restaurant
Doctor's office or any other waiting room
Airplane
Car travel
Sibling's sporting event
Visit with an adult friend
Dressing room (if you are unfortunate enough to need to use one while accompanied by children)
Home: when you need to talk on the phone (I thought of this one after a very painful phone call this morning when my kids were in sore need of diversion)
Any other ideas? Please share in the comments!
If you'd like a chance to
win one of these toy roll ups
, click
HERE
.
And don't forget to enter
my other giveaway
for
cloth gift bags
while you're here!
This post is part of